SWFT has partnered with Best Buy at over 190 locations to bring electric mobility across the country. Come into Salt Lake City and see how SWFT is changing the way you move through affordable value driven quality products.
IN STORE

E-bike

"I'd buy this bike ASAP before they (1) raise the price or (2) sell out.

- Kenneth (★★★★★)

SHOP NOW
REVIEWS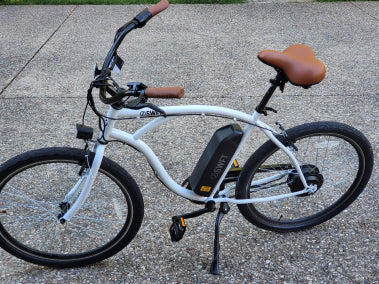 ★★★★★
An absolute joy to use
"Ebikes might be my new favorite thing. Cruising around at 20 MPH like you're on a moped is exhilarating. Also, I can say that it can tow a bike trailer for kids. I took my two kids for a ride and was able to hit 20 MPH even pulling them."
★★★★★
A must buy from best buy!
"This eBike is fantastic. For the price this is an amazing bike, the features on it are flawless. I use this bike everyday and the best part about it is it looks like a regular bike, but it's so much more! Get one for everyone you know, it will change the exercise game."
★★★★★
Swift Bike awesome quality
"Awesome bike! Get me to work every day! Goes just as fast as any other bike but it's one of the best prices I've seen. Looks like a regular bike, rides like a motorcycle!"
★★★★★
Just what I needed :)
"I love this bike! I've been looking for an affordable (but stylish) e-bike to ride around Atlanta. This is exactly what I was looking for! ...it was easy to put together in ~40 minutes. All the tools you need come in the package. Highly recommend."
★★★★★
This bike is a treat to ride
"Get it! Why are you even here reading reviews when you could be that much closer to riding this awesome e-bike. The specs say 37.2 miles on one charge and i swear I've gone much further on a single charge. Easily goes 20mph full throttle. Also very comfortable even on bumpy terrain"
★★★★★
My Favorite bike. ever.
"I love this bike SO much. It's the best bike I've ever owned. I love the ergonomics - it's so comfortable to ride. This bike is so smooth and easy to ride... My son is always begging to use MY bike now, and so are his friends! I love the throttle for the quick shot up a hill. I will bike MORE now because of this fabulous bike."