BMX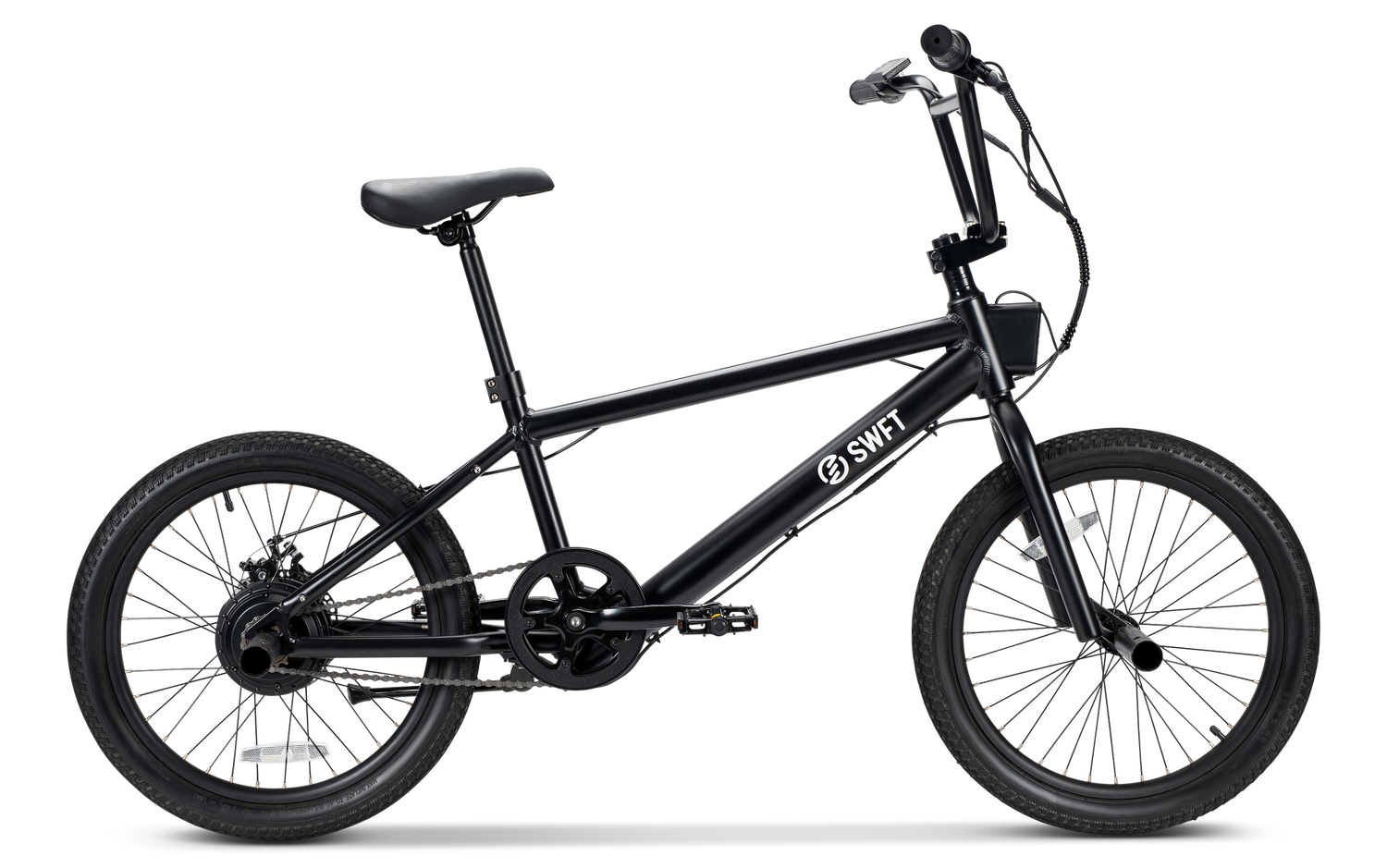 BMX
Regular price
Sale price
$1,099.00
Unit price
per
+ FREE SHIPPING
Sale
Sold out
★★★★★ Reviews / Q&A
Our quick-handling and rugged BMX-style e-bike has a durable low frame, front and rear footpegs, and gives you the power you need when you're on-the-go or hopping curbs. With a built-in rechargeable battery and 20" performance tires, the BMX has a notably sleek design and enough versatility for everything from casual neighborhood rides to an afternoon at the skatepark.
Note: Because of throttle and display wires, the handlebar cannot spin 360 degrees. This e-bike is in the BMX style, but not designed for professional tricks or stunts.
Share
Returns

Not sure if the BMX is for you? No stress. We accept returns on unopened e-bike shipments within 15 days of the delivery date. Find more about our return policy here.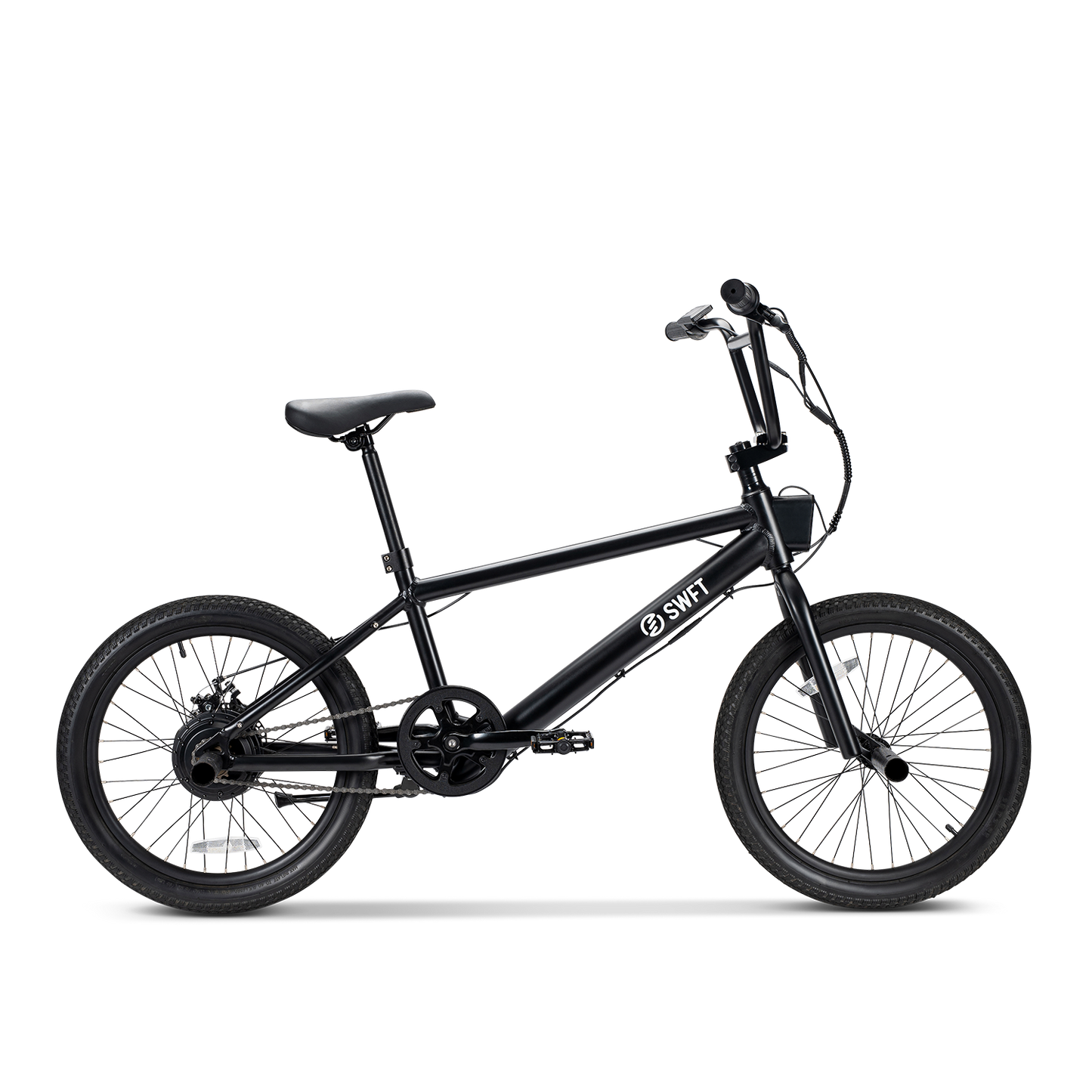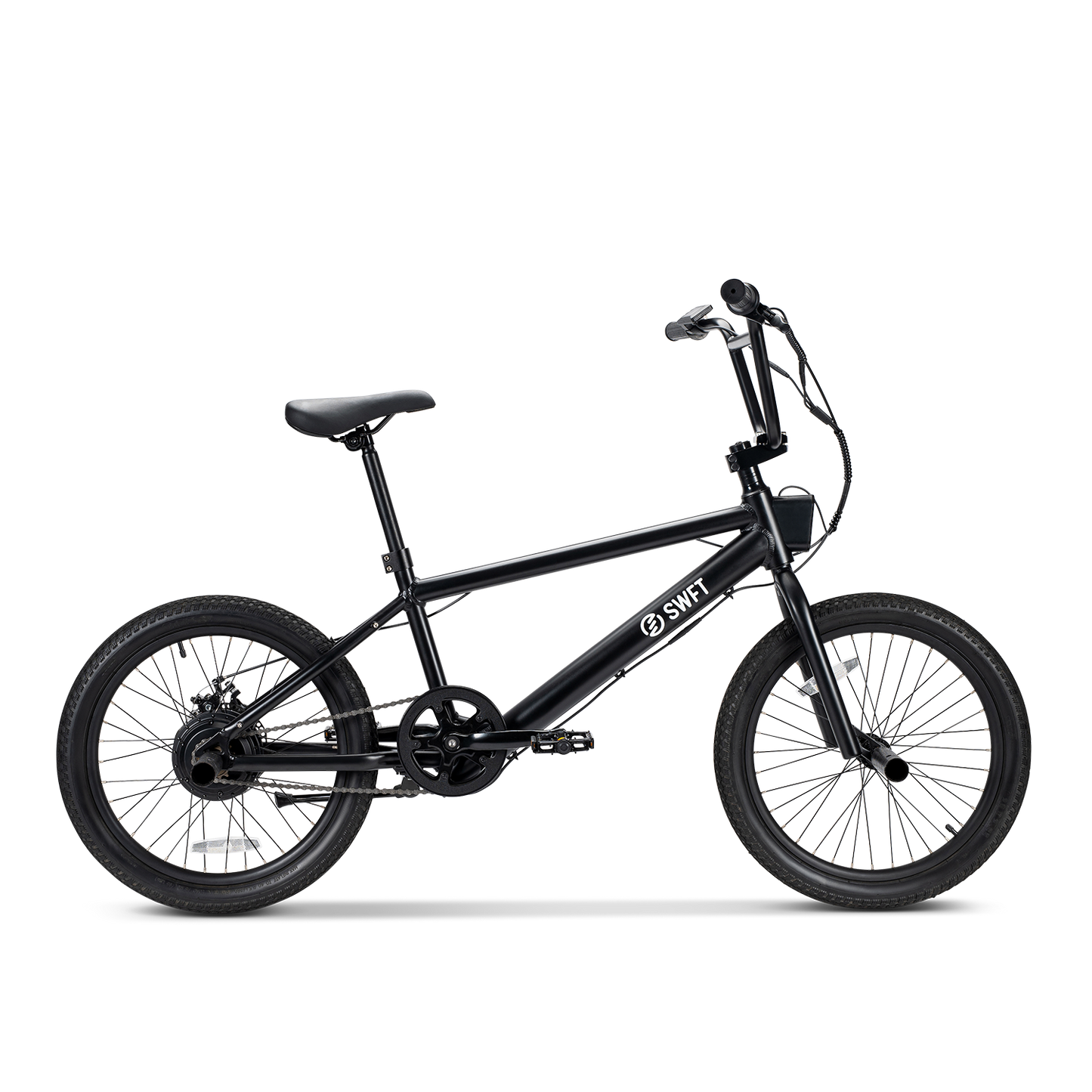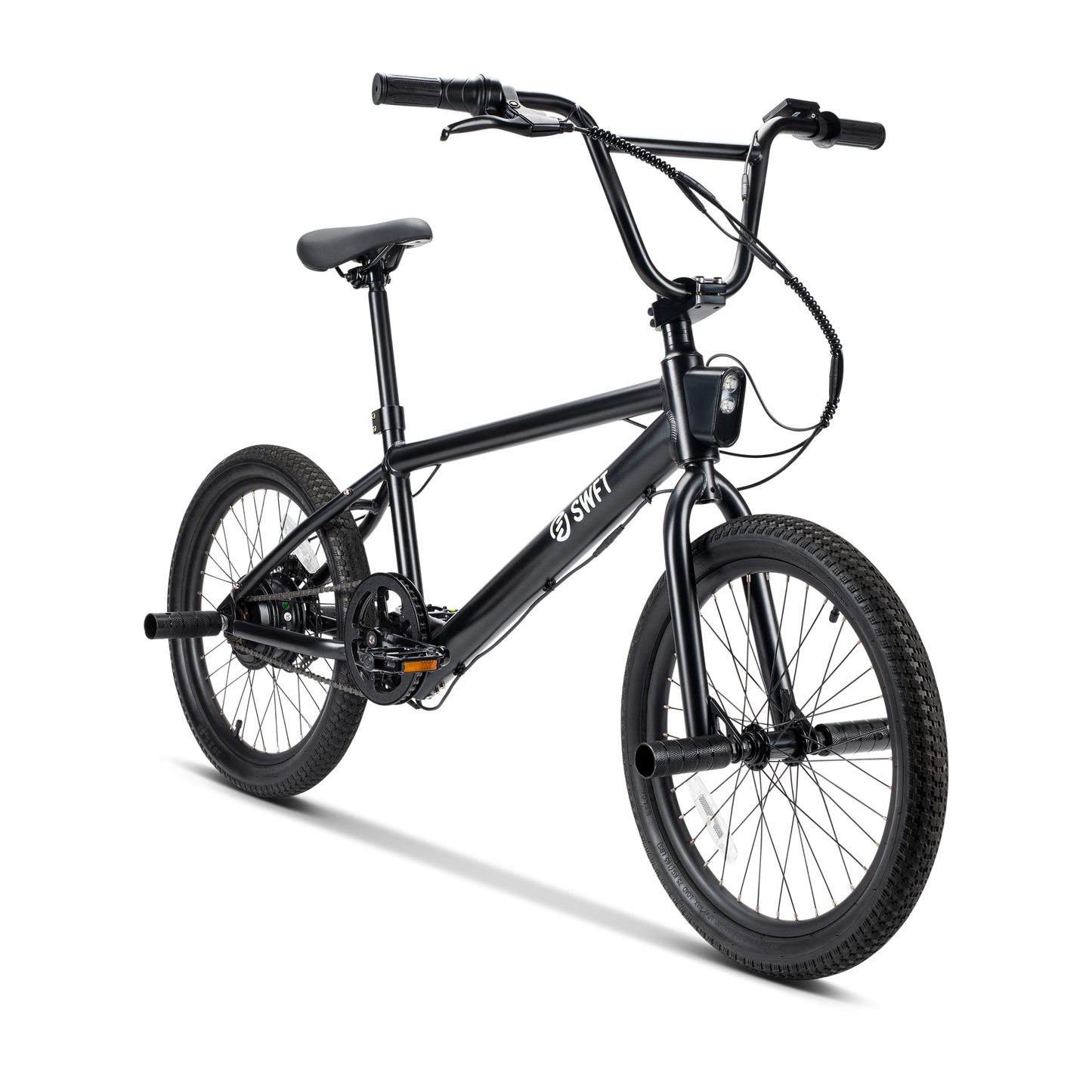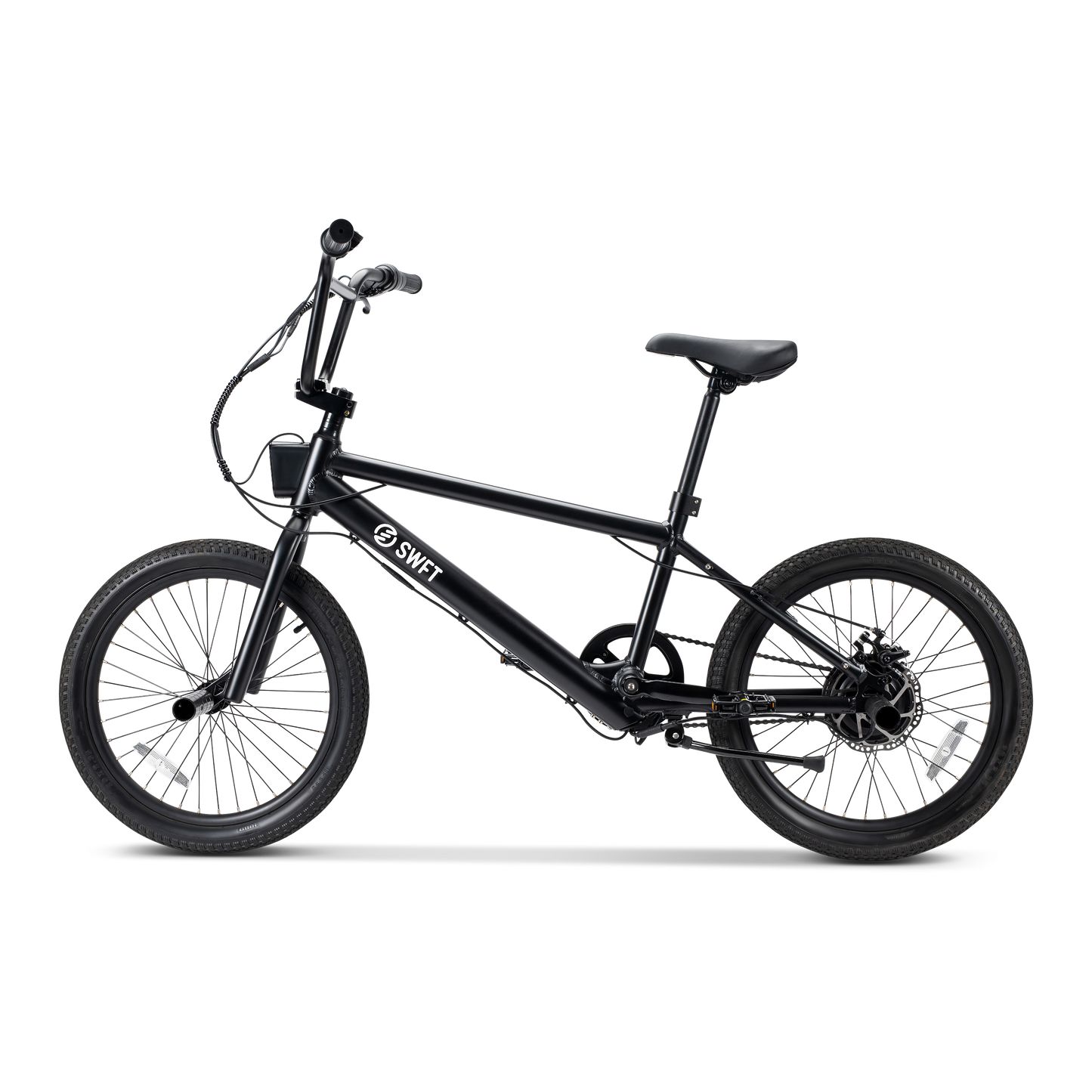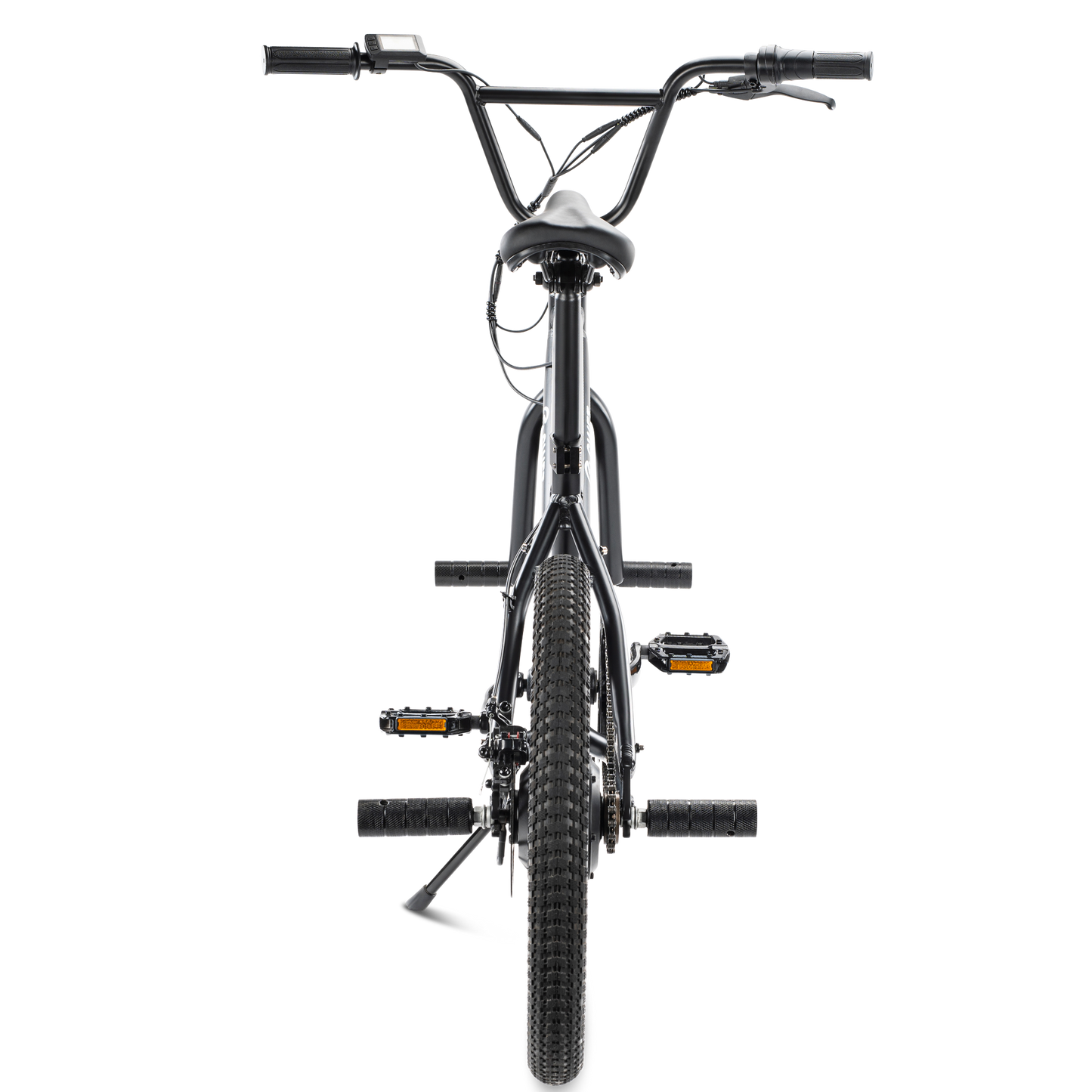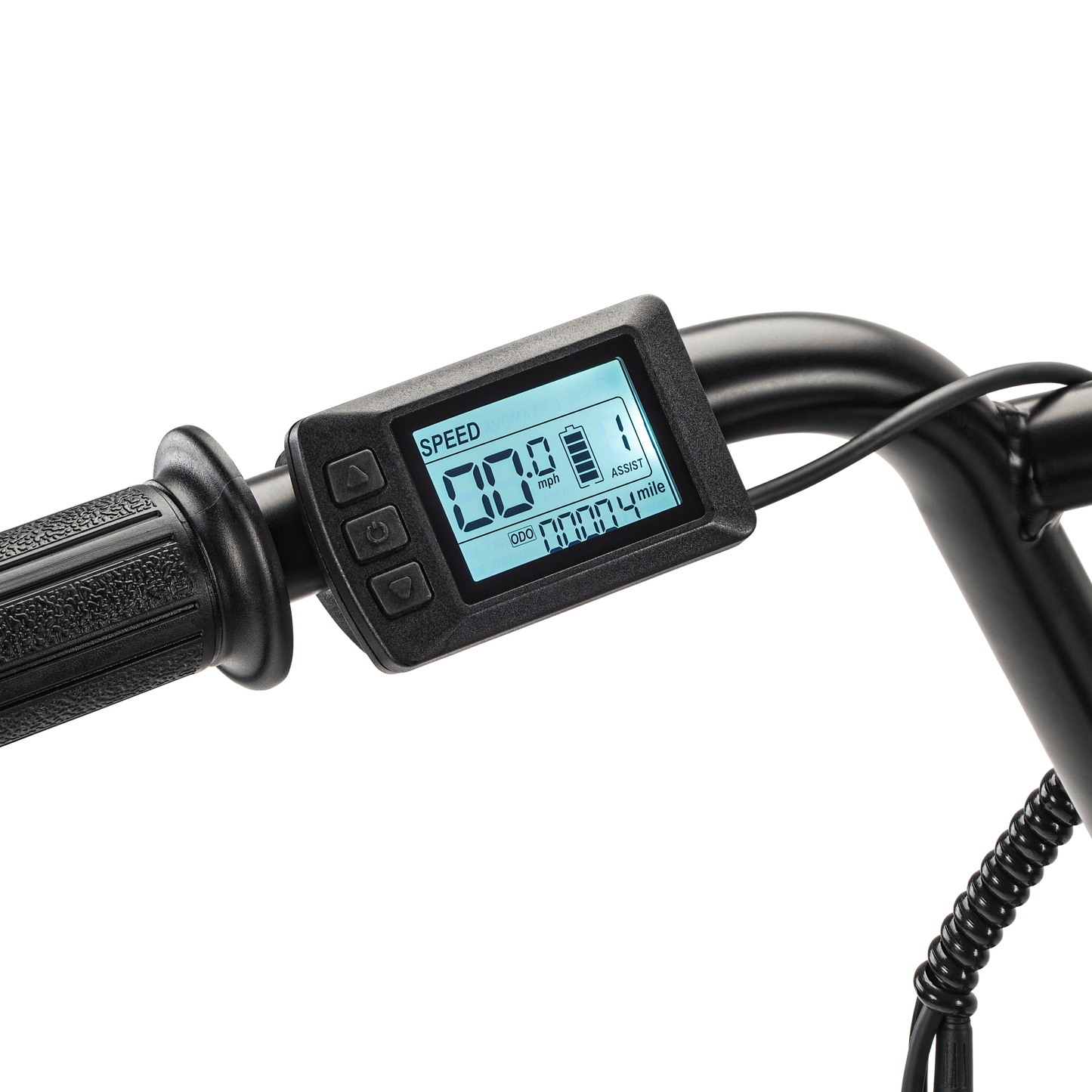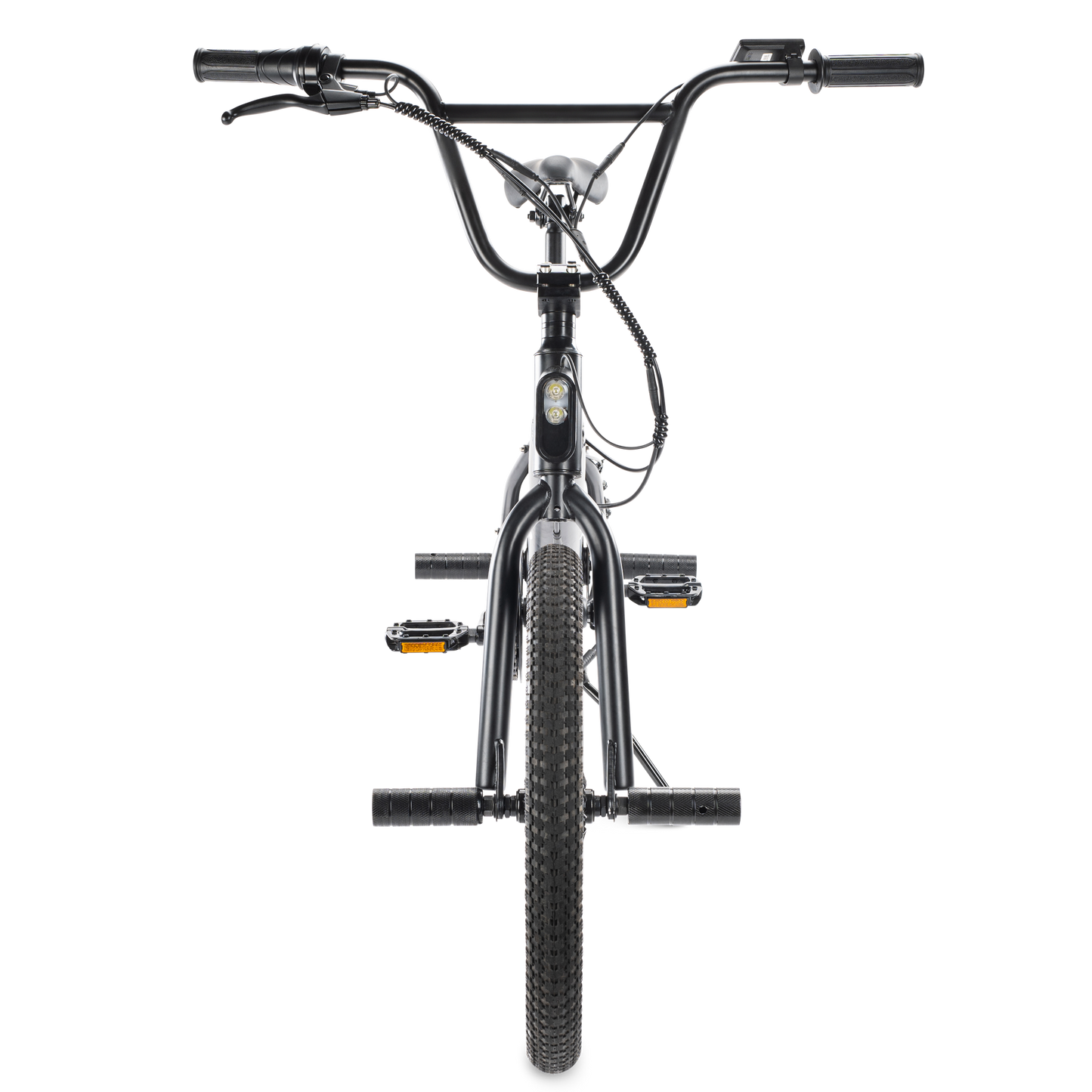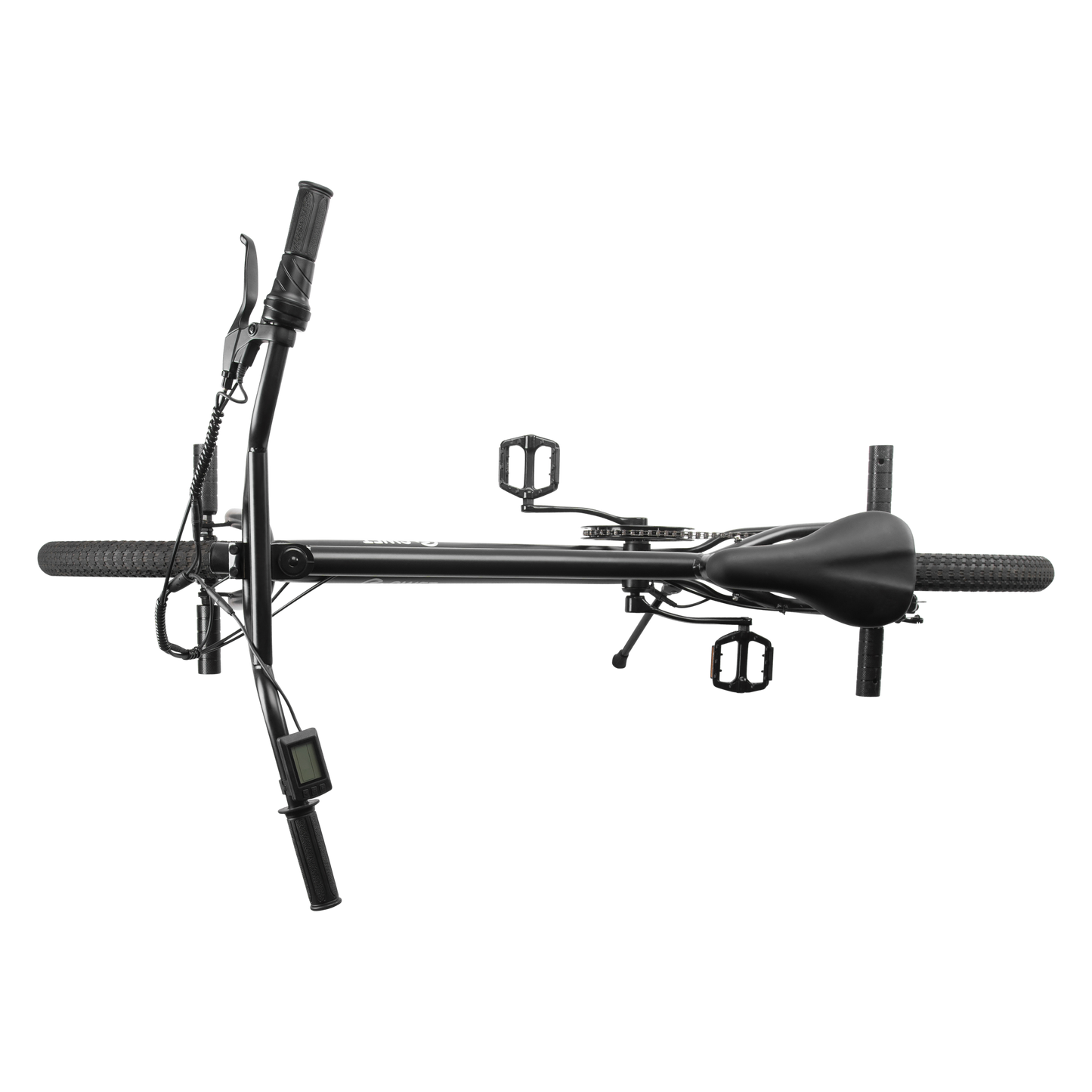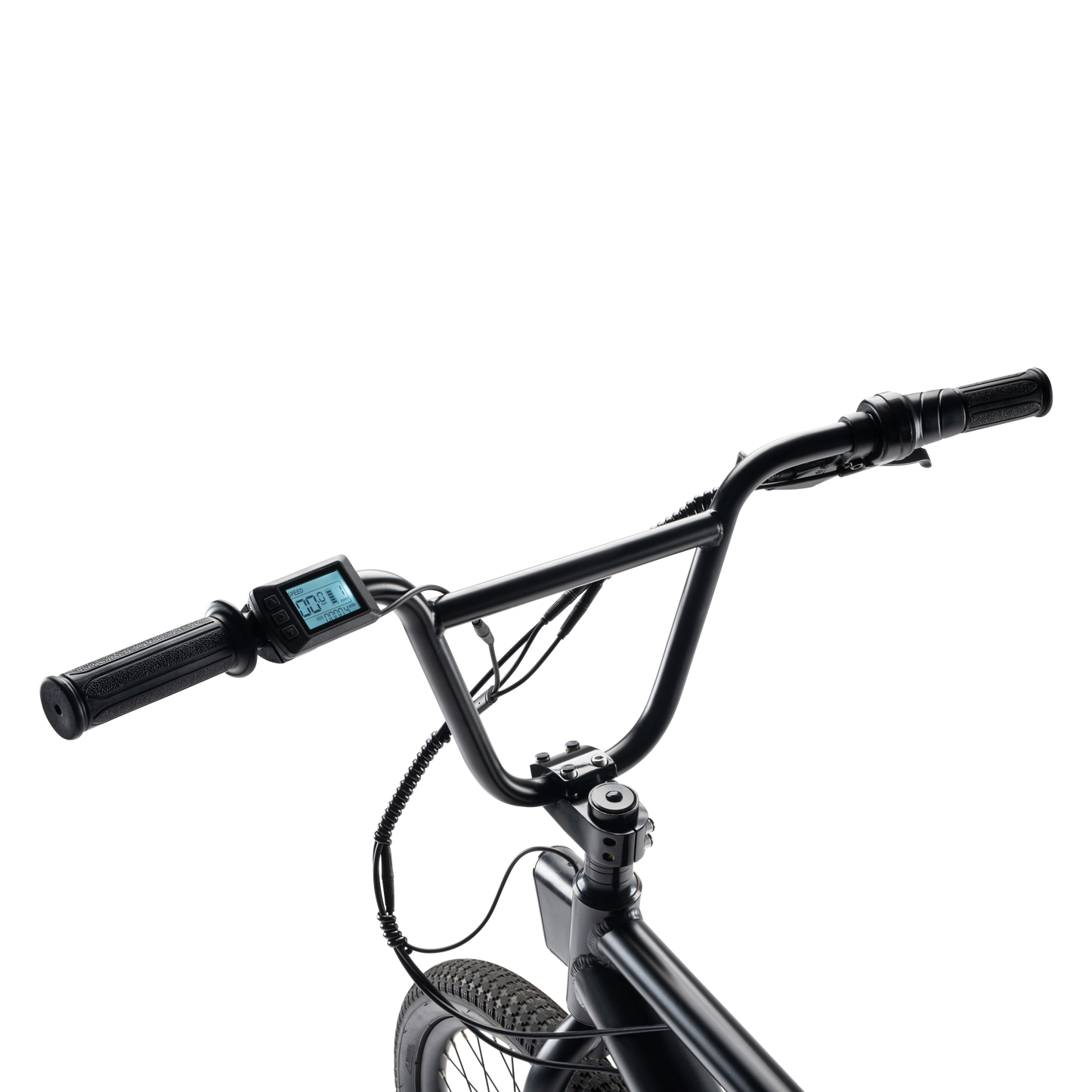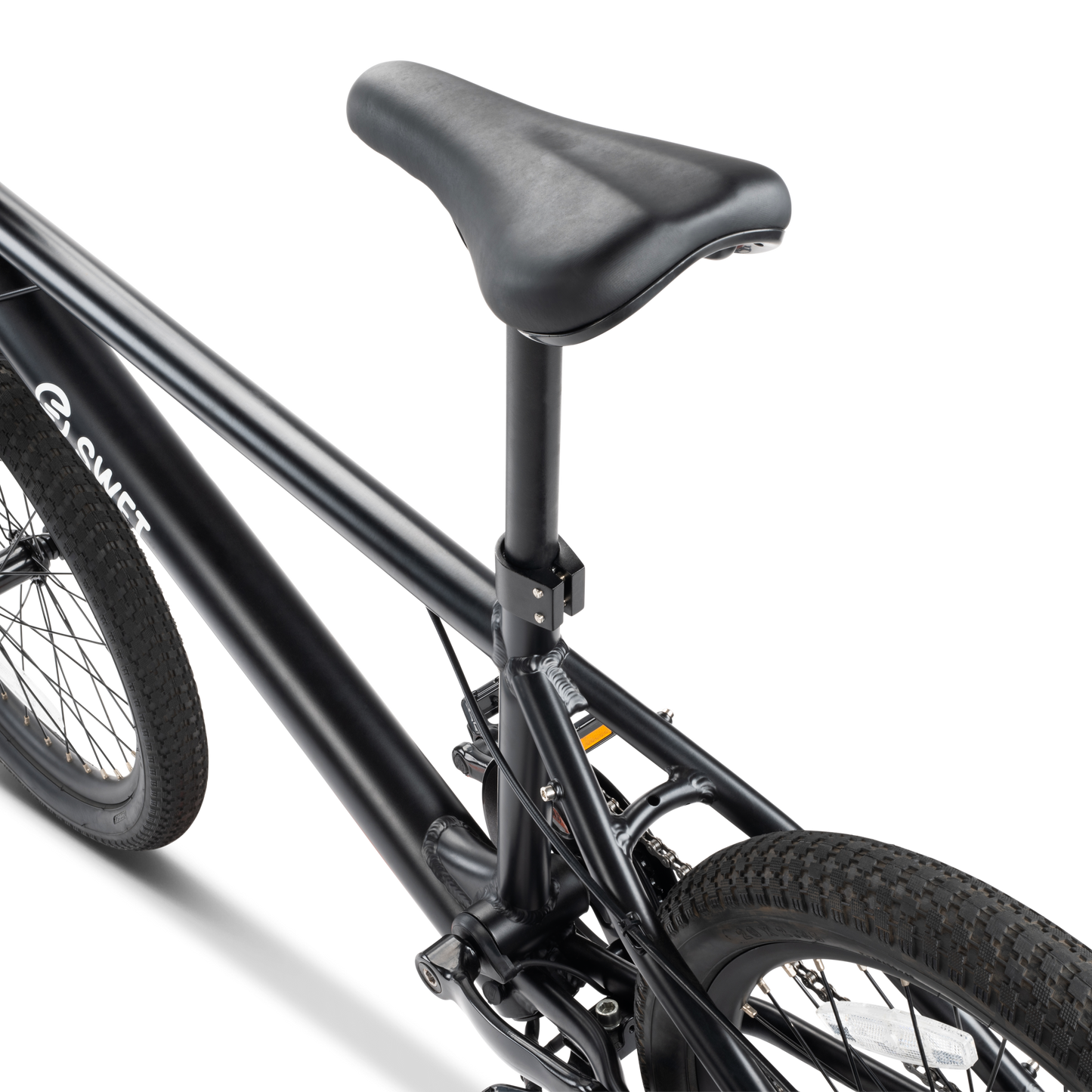 BUILT-IN LED HEADLIGHT

The mounted LCD headlight provides visibility for safe riding day or night.

20" PERFORMANCE TIRES

Our 20" performance tires have a deep tread, making them perfect for commuting or curb-jumping.

LCD control Display

See your speed, throttle & control the headlight. Our display tracks mileage and other important stats as you ride.

36V 7.5AH LITHIUM-ION BATTERY

The rechargeable, UL2271 tested Lithium-Ion battery has a 600-cycle lifespan and is built into the downtube of the bicycle frame for an aerodynamic ride.

front & rear m14 axles

Our M14 axles are thicker than standard axles, allowing for more stability when riding.

350W MOTOR

The 350W electric motor works when you're throttling on-the-go, or kicks in when you want a little push with 3 levels of pedal assist.
PRODUCT SIZE
65 x 29.5 x 42.5 in
(165 x 75 x 108 cm)

PRODUCT WEIGHT


39.7 lbs (18 kg)

SHIPPING BOX SIZE
52 x 9 x 24.8 in
(132 x 23 x 63 cm)
BOX WEIGHT


50.7 lbs (23 kg)

MOTOR
350W (Sustained), 36V Brushless Rear Hub Motor
THROTTLE
Throttle from initial pedal
DISPLAY
LCD
Smart Easy Read Display with Backlight

SPEED

Up to 20 MPH (32.2 km/h) on Throttle and Pedal Assist

BATTERY
Integrated Lithium-ion 36V, 7.5Ah
SENSORS
Cadence Sensor, Speed Sensor
CHARGER
42V / 2.0A
CHARGE TIME
Up to 5 Hour Charge Time
CHARGE CYCLES
600 cycles
RANGE


35 Mile (56.3 km) Average Range on Pedal Assist Level 1

FRAME
12" (30.5 cm) Alloy Frame
FORK
20" (50.8 cm) Steel Fork
WEIGHT LIMIT
265 Ibs (120 kg)
KICKSTAND
Included
CASSETTE
Single-speed
SHIFT LEVER
Not Included
BRAKES
Disc Brakes
RIMS
Alloy 20" x 1.5" (50.8 x 3.8 cm) x 13G x 36H Double-wall
SPOKES
Stainless 
TUBES
Butyl Rubber, 20 x 2.125" / 2.35" (50.8 x 5.4 /  5.97 cm)
HUBS
Steel M14 x 13G x 36H x 100 x 160
TIRES
20 x 2.35" (50.8 x 5.97 cm) Wanda
SADDLE
BMX 9156-02

SEATPOST

Steel; ø27.2 x 350mm x 1.4T, w/Clamp, w/Safeline

STEM
Alloy, 22.2 x 28.6, E:48
SEAT CLAMP
Double Socket Hex Screws
HANDLEBARS
Steel
GRIPS
Ergonomic Comfort
FOOT PEGS
Included
RACKS
Front: Not included
Rear: Not included

CHAIN
S1 1/2*1/8*88L KMC

RECOMMENDED RIDER HEIGHT


5'3" (160 cm) +
SWFT E-BIKES ARE DESIGNED FOR SELF-ASSEMBLY IN 7 STEPS, WITH EVERYTHING YOU NEED INCLUDED - YOU'RE IN THE DRIVER'S SEAT AND YOU'LL GET TO KNOW YOUR E-BIKE INSIDE AND OUT. CHECK OUT OUR MODEL-SPECIFIC ASSEMBLY GUIDES HERE
time
tools
3 allen wrenches
1 multi-purpose wrench
All included
hitting a roadblock?
Book a 30 minute call with a SWFT bike expert.
Schedule live support with SWFT customer service.
schedule assembly
White glove assembly by velofix.
Select Velofix at check out to schedule your in-home assembly.

While the speed at which you pedal is up to you, our throttle and pedal assist features top out at 19.8 mph, the perfect pace to streamline your commutes and accelerate your adventures without requiring a license in most states.
E-bikes have many components and each year's technology brings new features and advances to keep track of. We want to simplify the search process so you can shop with confidence. Read on to learn about important features to consider when purchasing an e-bike:
TIRES

Where do you ride? The BMX's performance tires are high-tread. The VOLT's road tires are aerodynamic for fast everyday commuting while the FLEET's beach cruiser tires offer more cushion and traction for a more comfortable, laid back ride. The ZIP features even thicker tires with substantial tread for riding on or off the road.  

MAX SPEEDS

Max speed is an important factor to consider depending on your needs, comfort level, and state regulations. Our throttle and pedal assist features power your ride up to 20 mph.

GEARS

Also referred to as speeds (i.e. 3-speed bicycle), gears allow you to change the ease with which you pedal depending on the incline or terrain. For example a steep incline may require easier pedaling and thus a lower gear, while pedaling downhill may require a more resistant pedal and thus a higher gear so that your pedaling actually helps propel you forward and in addition to gravity.  You might opt for a bike with several gears versus a single-speed bike, depending on your needs, but bear in mind that additional gears add weight to your bicycle. Because our bikes are electric, we've included features like a throttle and pedal assist to minimize the effort required to ride, in lieu of multiple gears. Our ZIP bike however does include 6 gears for a variety of inclines and terrains. 

BATTERY LIFE

Batteries are important to consider for the longevity of your bicycle. Our e-bike batteries have a 600-cycle lifespan and have been tested to meet UL2271 standards to optimize performance.

MAX RANGE 

This refers to the maximum distance your e-bike will travel while employing the throttle at medium capacity on a fully charged battery before charging is required. Check below for each bike's max range* on a single charge.

BMX E-bike: 18.9 mile max range
VOLT E-bike: 32 mile max range
FLEET E-bike: 37.2 mile max range 
ZIP E-bike: 37 mile max range 

* Varies slightly depending on rider weight and riding terrain. 

THROTTLE

Some e-bikes are equipped with a throttle, a mechanism that powers the motor with a twist on the handlebar. In addition to pedal assist, all SWFT e-bikes feature a throttle which you can use in tandem with the pedal-assist, or on its own without pedaling. 

PEDAL ASSIST

Most e-bikes are equipped with pedal assist, an operating mode that activates the motor when you pedal to give your ride an electric-powered boost. Some e-bikes forgo pedal assist in favor of a throttle. All SWFT e-bikes feature both a throttle and pedal assist so you can choose how to power your ride, or activate both simultaneously for extra motor power.  

WEIGHT 

Bike weight is a factor to consider depending on how you will store and transport your e-bike. Electric bikes tend to be heavier than traditional bikes due to the added motor, battery and other features. We've developed our SWFT e-bikes to optimize performance and minimize weight, with each model falling below the average weight of its respective category.

BMX: 39.7 lbs

VOLT: 44.1 lbs
FLEET: 50.7 lbs
ZIP: 66.1 lbs

CLASS

E-bikes are typically designated as Class 1, 2, or 3, according to available features and maximum speed. SWFT e-bikes fall under the Class 2 category meaning they feature both pedal assist and throttle with a maximum assisted speed of 19.8 mph. 

SEAT

Seat type is important to consider depending on what type of ride you are looking for. The VOLT features an aerodynamic seat for a faster, more athletic ride while the FLEET is equipped with a wider, more cushioned seat for a laid back and comfortable ride. Our ZIP model features an elongated motorcycle style seat for stability, comfort, and extra room.
Each of our e-bikes works for a range of rider heights and the BMX, FLEET, and VOLT e-bikes feature adjustable seat posts. See below to determine which e-bike is best for you.
Not usually. While the majority of states across the country regulate e-bikes similarly to traditional bicycles and do not require a license, some holdouts still place e-bikes into the motor vehicle category. Check your state's local e-bike regulations to determine which license, if any, is required to operate a Class 2 e-bike.
Our warranties cover your SWFT E-Bike purchase against manufacturing defects. Just register your bike and read the details below:
Frame: 24 months 
Battery: 12 months 
Electric Motor: 12 months 
Charger/Controller: 12 months 
Other Electric Parts: 24 months 
This warranty covers manufacturer defects and normal use only. It does not cover the product due to rider misuse, neglect, accident or improper servicing. Any attempt of repair done by the consumer (other than tires and normal adjustments) will void the warranty.
Easy Shipping

Get FREE shipping on all SWFT rides in the continental U.S. At SWFT, everyone has a seat.

awesome service

Our team of e-bike experts have you covered. Give us a call or drop us a line and we'll get back to you.

expert assembly

Save time & ride more. Our friends at Velofix will assemble or repair your ride from the comfort of your home.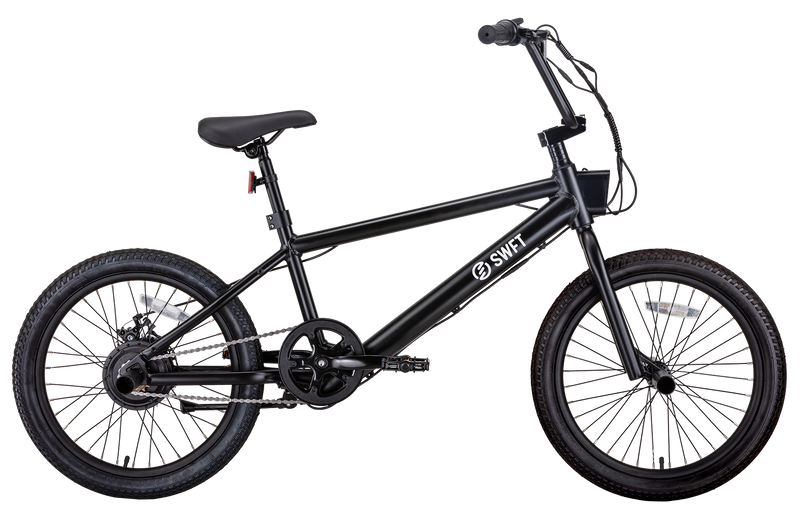 EVERYONE HAS A SEAT
Exceptional quality meets accessible prices. We're building personal electric mobility for all.
RIDES TO REMEMBER
Our stylish designs bridge the timeless power of two wheels with the innovation and excitement of the future.
IT'S A MOVEMENT
Not just a moment. We're building transportation with intention and reducing air pollution for future generations.